Miami, Florida
02/14/2020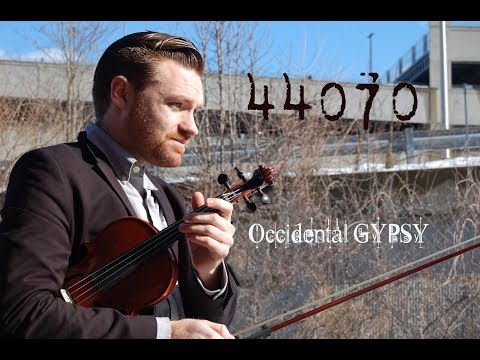 About
Dr. Lonnie Smith says "I love Occidental Gypsy's new CD 44070. The compositions and arrangements are uniquely creative. They perform with enormous heart and soul and have an original groove that is definitely worth checking out."

---

"Occidental Gypsy is a crowd pleaser. Jaunty vocals, lots of swing, and evocative violin and guitar interplay make this an act to catch and enjoy. They were a big hit at Djangofest Mill Valley '15." – Nicholas Lehr, Executive Promoter of Djangofest

---

Chicago Tribune Jazz Critic Howard Reich: "sonic pleasures to be had, particularly in an energetic, gypsy-jazz transformation of Duke Ellington's "It Don't Mean a Thing (If It Ain't Got That Swing)," which opened the evening. More than once, vocalist-guitarist Frantz brought the large crowd to near silence through the warmth and openness of his singing, as in "Georgia on My Mind." read full review
Occidental Gypsy delivers an exhilarating blend of gypsy swing, jazz and world music with a rousing acoustic sound.
Nationally recognized Occidental Gypsy plays a dynamic, multi-genre mix of original vocal and instrumental pieces along with many notable covers like a "gypsyfied" take of Michael Jackson's Thriller.
The Boston Globe has named them a "Best Bet for Weekend Entertainment," and musician David Bromberg said of the group, "great singing, fantastic guitar and violin work, with high energy originals that leave the crowd crazy. An awesome band."
Occidental Gypsy's sound appeals to a wide spectrum of listeners, and their shows consistently draw enthusiastic audiences at colleges, arts centers, festivals and clubs.

The band has found a powerfully seismic acoustic sound as they play a dynamic mix of original vocal and instrumental pieces--and a few memorable standards-- to exhilarated crowds. Occidental Gypsy's music cannot be easily classified; a bit of jazz, a catchy strain of pop, and "a whole lotta' gypsified swing…"

Occidental Gypsy features award-winning violin prodigy Eli Bishop who has played with Wynton Marsalis and Bill Evans of the Miles Davis Group, and still plays at Jazz at Lincoln Center. Occidental Gypsy has played to solid and sold out crowds at the legendary Nighttown in Cleveland, Old Town School of Folk Music and The Green Mill in Chicago, the Bluebird Cafe in Nashville, the Ark in Ann Arbor Michigan and The Triple Door in Seattle, among many others.

The band has shared the stage with such greats as Rikki Lee Jones, Jorma Kaukenen, Stanley Jordan, Joe Sample, and David Bromberg, among others and the band recently played to a sold out show at the 2015 DjangoFest in Mill Valley, California-- a prestigious homage to Gypsy Swing master Django Reinhardt.
Downloadable Press Assets: www.occidentalgypsy.com/press
Jazz | World Music/Traditional | Blues
Links
Source
Brett / Jeff Band Founders
401-741-7283
Acoustic quintet delivers an original evolution of Django Reinhardt's hot club jazz
Occidental Gypsy is returning and headlining at Lagnaippe House for a special Valentine's Concert.
The band has been named "best bet in weekend entertainment" in Boston and Cincinnati for spirited music performances and fun band banter.
Occidental Gypsy is a nationally-touring acoustic band that plays an exhilarating blend of gypsy jazz and folk music. Their pioneering approach to traditional "hot club" jazz music pays homage to Django Reinhardt and expands the genre to include elements of western (Occidental) sounds and rhythms, including blues, Klezmer and Latin. Their unique gypsy sound is burnished by smooth vocals by Jeremy Frantz that are reminiscent of the first era of swing.
Their newest songs are complex and challenging to execute, and are often considered a "natural evolution" of Reinhardt's sounds were he still alive today. Their most notable new piece is the title track of their latest CD 44070. "

Song for Vrba: 44070"

tells the story of the heroism of Rudolf Vrba, a man who escaped a concentration camp in WWII and is credited with saving the lives of 100,000 more. While a strictly instrumental piece (other songs by the band include vocals), the scale and emotion of the song has a cinematic feel.
The popular quintet has played over 200 shows in 30 states including selling out venues like the l
egendary Nighttown in Cleveland, Green Mill in Chicago, Jazz Kitchen
in Indianapolis
and others.
The group also features prodigy Eli Bishop on violin. Bishop has performed with Wynton Marsalis at Jazz at Lincoln Center and also been awarded a
Guinness World record holder for fastest clapping— a staccato backbeat which can also be heard on the band's new song Messalina Lover Lamb.
Occidental Gypsy's energized shows have garnered them fans among the most discerning musicians, and new gypsy lovers alike.
OCCIDENTAL GYPSY HAS PLAYED OVER 200 CONCERTS IN OVER 30 STATES
CHICAGO TRIBUNE says "there are sonic pleasures to be had, particularly in an energetic, gypsy-jazz transformation of Duke Ellington's "It Don't Mean a Thing (If It Ain't Got That Swing)," which opened the evening. More than once, vocalist-guitarist Frantz brought the large crowd to near silence through the warmth and openness of his singing, as in "Georgia on My Mind."
---
Dr. LONNIE SMITH says, "I love Occidental Gypsy's new CD 44070. The compositions and arrangements are uniquely creative. They perform with enormous heart and soul and have an original groove that is definitely worth checking out."
---
DAVE BROMBERG says, "Great singing, fantastic guitar and violin work, with high energy originals that leave the crowd crazy. An awesome band."
HARTFORD COURANT says "As it journeys from venue to venue throughout the United States, Occidental Gypsy, a red-hot, Django Reinhardt-inspired, gypsy swing and fusion band, loves to encourage rapt listeners to get up on their feet and dance to its classically retro yet forever young sounds."
Don Heckman of the LA TIMES says "…irresistible, a virtual definition of an era when jazz was often described as "hot" music. Occidental Gypsy's rhythm section, usually driven by the surging rhythm guitar of Brett Feldman, hit one irresistible rhythmic groove after another, "hot" was the best applicable adjective." read full review
---
PUBLICITY
Please contact Occidental Gypsy's publicist if you need a physical CD, download of digital tracks, videos, high resolution photos or tickets: Elizabeth Mullen Matteson, EMWeb
phone: 401-855-3428 email: em@elizabethmullen.com
Dispatch Details
| | |
| --- | --- |
| Event Notes: | Occidental Gypsy is headliner, music starts early |
| Ticket Phone: | (305) 576-0108 |
| Venue Link: | Click here |
| Venue Zip: | 33137 |
| Venue City, State: | Miami, Florida |
| Venue St. Address: | 3425 NE 2nd Ave |
| Venue: | Lagniappe​ House, Miami, Florida |
| Concert Start Time: | 10:00PM Headliner |
| Doors Open: | 7:00PM |