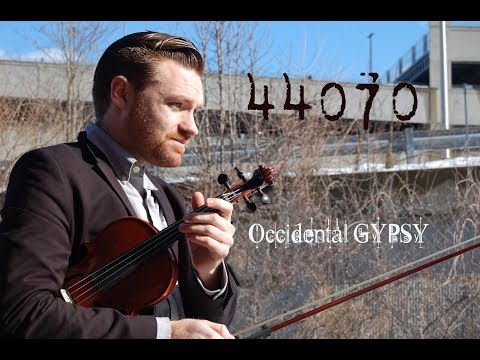 About
Dr. Lonnie Smith says "I love Occidental Gypsy's new CD 44070. The compositions and arrangements are uniquely creative. They perform with enormous heart and soul and have an original groove that is definitely worth checking out."

---

"Occidental Gypsy is a crowd pleaser. Jaunty vocals, lots of swing, and evocative violin and guitar interplay make this an act to catch and enjoy. They were a big hit at Djangofest Mill Valley '15." – Nicholas Lehr, Executive Promoter of Djangofest

---

Chicago Tribune Jazz Critic Howard Reich: "sonic pleasures to be had, particularly in an energetic, gypsy-jazz transformation of Duke Ellington's "It Don't Mean a Thing (If It Ain't Got That Swing)," which opened the evening. More than once, vocalist-guitarist Frantz brought the large crowd to near silence through the warmth and openness of his singing, as in "Georgia on My Mind." read full review
Occidental Gypsy delivers an exhilarating blend of gypsy swing, jazz and world music with a rousing acoustic sound.
Nationally recognized Occidental Gypsy plays a dynamic, multi-genre mix of original vocal and instrumental pieces along with many notable covers like a "gypsyfied" take of Michael Jackson's Thriller.
The Boston Globe has named them a "Best Bet for Weekend Entertainment," and musician David Bromberg said of the group, "great singing, fantastic guitar and violin work, with high energy originals that leave the crowd crazy. An awesome band."
Occidental Gypsy's sound appeals to a wide spectrum of listeners, and their shows consistently draw enthusiastic audiences at colleges, arts centers, festivals and clubs.

The band has found a powerfully seismic acoustic sound as they play a dynamic mix of original vocal and instrumental pieces--and a few memorable standards-- to exhilarated crowds. Occidental Gypsy's music cannot be easily classified; a bit of jazz, a catchy strain of pop, and "a whole lotta' gypsified swing…"

Occidental Gypsy features award-winning violin prodigy Eli Bishop who has played with Wynton Marsalis and Bill Evans of the Miles Davis Group, and still plays at Jazz at Lincoln Center. Occidental Gypsy has played to solid and sold out crowds at the legendary Nighttown in Cleveland, Old Town School of Folk Music and The Green Mill in Chicago, the Bluebird Cafe in Nashville, the Ark in Ann Arbor Michigan and The Triple Door in Seattle, among many others.

The band has shared the stage with such greats as Rikki Lee Jones, Jorma Kaukenen, Stanley Jordan, Joe Sample, and David Bromberg, among others and the band recently played to a sold out show at the 2015 DjangoFest in Mill Valley, California-- a prestigious homage to Gypsy Swing master Django Reinhardt.
Downloadable Press Assets: www.occidentalgypsy.com/press
Jazz | World Music/Traditional | Blues
Links
Source
Brett / Jeff Band Founders
401-741-7283
High Energy Gypsy Pop Band Delivers a Thrilling Auditory Experience
The Gypsy Side of Pop: Occidental Gypsy Blends Jazz, Pop and Gypsy Guitar with a Side of Musical Storytelling
After a well-received national tour last year, Occidental Gypsy returns to the area playing jazz-pop riffs and engaging new songs that are performed with superb musicianship.
This is the band David Bromberg says has "Great singing, fantastic guitar and violin work, with high energy originals that leave the crowd crazy."
____________________

Occidental Gypsy is pioneering the sound of Gypsy Pop. Their mélange of uptempo, high-energy rhythms of Gypsy, melded with the catchy melodic hooks of Pop delivers a thrilling auditory experience to listeners. In many ways the heart of Gypsy Pop embodies the essence and spirit of what jazz was in its infancy: developing, improvising, and arranging, with contemporary music as a foundation. The unique sound of Occidental Gypsy's connects with an incredibly wide audience and brings all ages to their feet.

An Occidental Gypsy performance includes so much more than just music. Scottie, Jakub, Brett, Jeff, and Francisco are incredibly energetic and charming entertainers who interact with fans on a personal level, and incorporate audience participation into every show. On stage, the dialog between band members is never less than entertaining, especially between the quick-witted Scottie and Brett who playfully tease one another to no end.

When Occidental Gypsy decided to gypsify Michael Jackson's "Thriller" on the band's debut album. "Over Here," released last year, they were quick to garner critical acclaim, and have continued to gather rave reviews and full houses during active touring. Motif Magazine wrote, "Listeners will surely be all in with Occidental Gypsy's OverHere" and defined the band as "a terrific and unpretentious fab four".

Occidental Gypsy was originally formed by brothers Brett (lead guitar) and Jeff Feldman (bassist) as a straight-ahead Gypsy Jazz Quartet. Through the release of Over Here and the addition of new members, the band has taken on a far more diverse, sophisticated, and eclectic sound. The group is fronted by Berklee trained singer and rhythm guitarist Scott ("Scottie") Kulman, and supported by two Berklee students: violinist Jakub Trasak from the Czech Republic, and percussionist Francisco Vielma from Venezuela. The circumstances that brought this ensemble together are far from ordinary. Brett and Scottie serendipitously met on a park bench. Scott's grandmother had approached the guitar-slinging Brett at the same park bench months earlier, speaking highly of her grandson's musical talent. Scottie introduced Francisco and Jakub to the band, and often invites guest musicians such as Erick Cifuentes from Guatemala and prodigy Yuki Nakajima to join in.

Live, the band compliments original material with expertly arranged gypsified covers. Occidental Gypsy's unique approach to pop, jazz, and dance music stems from the influence of Gypsy Swing founders, Django Reinhardt and Stephane Grapelli. The members of the group posses a deep knowledge and reverence for the Gypsy style and feel honored to bring their music to the ears of new audiences. And now, with an ever-growing list of performances, and presence online through website and social networking pages, Occidental Gypsy's fan base is constantly expanding.

The name Occidental Gypsy (Western gypsy) embodies the concept behind Gypsy Pop. The group has taken the Gypsy sound that originated in Eastern Europe and brought it Over Here to blend it seamlessly with contemporary American music. Interestingly, Gypsy Swing was created by taking American Jazz to the East and blending it with the Gypsy Folk tradition. Now almost a century later Occidental Gypsy is bringing the music back home.

LISTEN TO OCCIDENTAL GYPSY : https://soundcloud.com/occidental-gypsy-band/sets/occidentalgypsy-playlist
ELECTRONIC PRESS KIT: http://www.sonicbids.com/epk/epk.aspx?epk_id=294339
Dispatch Details
| | |
| --- | --- |
| Doors Open: | 6:00 pm |
| Concert Start Time: | 6:00 pm |
| Venue: | Maxie's Supper Club |
| Venue St. Address: | 635 W. State St. |
| Venue City, State: | Ithica, NY |
| Venue Zip: | 14851 |
| Venue Link: | Click here |
| Ticket Price(s): | FREE SHOW |
| Ticket Phone: | (607) 272-4136 |